Balloon Kyphoplasty (BKP)
Vertebral compression fractures (VCF) affects more than 800,000 people in the United States and the most common type of fragility fracture in the country.
VCFs affect 1 in 2 women and 1 in 5 men in their lifetime, threatening quality of life and increasing risk of mortality.
Leaving vertebral compression fractures untreated can have severe consequences.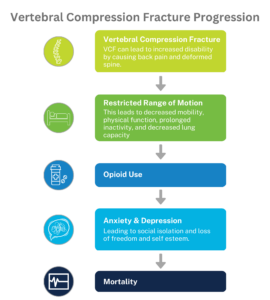 Treatment Options for VCF
Vertebral compression fractures can cause significant pain and discomfort, especially for older individuals or those with osteoporosis. Treatment options for vertebral compression fractures depend on the severity, location, and underlying cause of the fracture. Some common treatment options include:
1. Pain management: Pain medications such as acetaminophen, ibuprofen, or other prescription opioids can be used to manage pain associated with vertebral compression fractures.
2. Rest and Immobilization: Rest and immobilization can help to reduce pain and facilitate healing. A brace or corset may be prescribed to provide support to the affected area.
3. Physical therapy: Physical therapy can help to strengthen the muscles supporting the spine and improve balance.
4. Kyphoplasty: This minimally invasive surgical procedure involves injecting bone cement into the fractured vertebrae to stabilize the bone.
5. Surgery: In severe cases, surgery may be required to repair the fractured vertebrae.
Kyphoplasty
The Procedure
Kyphoplasty is a minimally invasive procedure designed to repair vertebral compression fractures and relieve pain.
While sedated, using x-ray guidance, a radiologist will insert a need into the vertebrae, then inflate a balloon to create a cavity and help the vertebra regain its normal height and shape. The balloon will be removed and then the radiologist will inject bone cement to secure the fracture and stabilize the vertebra.
The entire procedure typically takes about one hour per fracture and may be performed in an outpatient setting.
The Recovery
Following Kyphoplasty, you will rest and be observed during your recovery from the procedure. You may resume normal activity the following day, as tolerated, and should avoid any activity that is painful.
You may have some soreness at the injection site. Over-the-county non-steroidal anti-inflammatory drugs to relieve pain and inflammation are okay to use. You may experience instantaneous relief from pain following kyphoplasty; for some, it can take up to 48 hours.
Many patients return to their daily activities within a few days following their procedure.
Insurance Coverage
Nearly all insurance companies, including Medicaid, will cover treatment of vertebral compression fractures.
Our team will work with insurance companies to authorize coverage before the procedure is performed.
The Next Step
Patients who think they may be suffering from a vertebral compression fracture should contact their healthcare provider who will work with our TRA Endovascular team on a plan to evaluate and treat your condition.
Have questions?
Contact Us
---
Additional Resources: Radiologyinfo.org