Celebrating 30 Years in Lakewood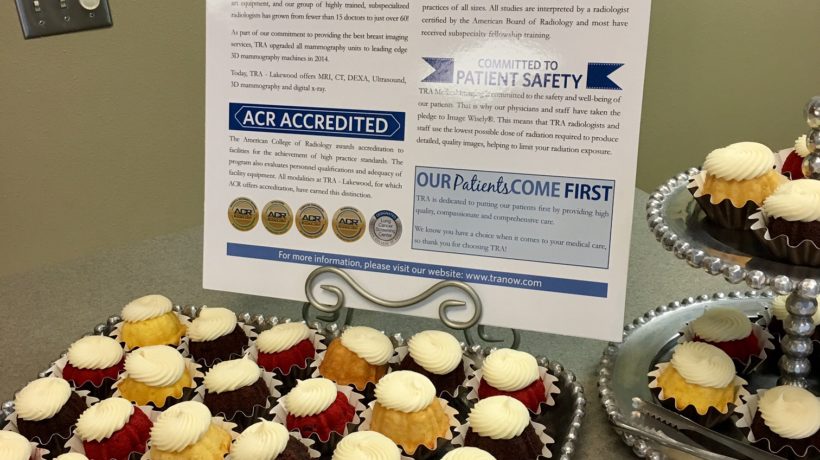 2016 marked the 30th anniversary of TRA-Lakewood. When this clinic first opened in 1986, TRA offered x-ray, fluoroscopy, and mammography. A couple of years after opening, TRA added Ultrasound to the mix.
A lot has changed in 30 years! Our Lakewood imaging center has tripled in square footage, we have invested in state-of-the-art equipment, and our group of highly trained, subspecialized radiologists has grown from fewer than 15 doctors to just over 60!
As part of our commitment to providing the best breast imaging services, TRA upgraded all mammography units to leading edge 3D mammography machines in 2014.
Today, TRA – Lakewood offers MRI, CT, DEXA, Ultrasound, 3D mammography and digital x-ray.
---
ACR Accredited
The American College of Radiology awards accreditation to facilities for the achievement of high practice standards. The program also evaluates personnel qualifications and adequacy of facility equipment. All modalities at TRA – Lakewood, for which ACR offers accreditation, have earned this distinction.
---
Partnerships
TRA Medical Imaging is proud to work with CHI Franciscan Health and Multicare Health System to provide professional radiology services to hospitals and clinics in Pierce and South King County, as well as St. Anthony Hospital in Pendleton, Oregon.
In addition to our outpatient imaging clinics and hospital affiliates, TRA provides professional and teleradiology services to medical practices of all sizes. All studies are interpreted by a radiologist certified by the American Board of Radiology and most have received subspecialty fellowship training.
---
Committed to Patient Safety
TRA Medical Imaging is committed to the safety and well-being of our patients. That is why our physicians and staff have taken the pledge to Image Wisely. This means that TRA radiologists and staff use the lowest possible dose of radiation required to produce detailed, quality images, helping to limit your radiation exposure.
---
Our Patients Come First
TRA is dedicated to putting our patients first by providing high quality, compassionate and comprehensive care.
We know you have a choice when it comes to your medical care, so thank you for choosing TRA!